I know I can't.
It's hard to believe that there are just a handful of full school days left. Then, there will be finals, NYS Regents exams, and Jen's graduation.
But, before that all happens, Jen will go to her Senior Prom next week, the next day, will be spent at the beach, prom weekend - they'll spend a day at Six Flags in NJ. It'll be great fun and memories for her. I'm excited for her, so I can only imagine how excited she is, too.
We've been so busy prepping the house for the party. Both inside, and outside. Funny - that so much will be done for one day. Steve, and I, have been shopping around for a grill, a backyard set, plants, and whatever else we think is necessary.
I've been doing most of the gardening with my boys. The planting beds in the front are almost done. I was going really good for a while there, and then, for whatever reason, I started to get terrible back pain, which radiated to my hips, and down my legs, and feet. I felt literally 'broken', from the waist down. So, for the last 3 weeks - I haven't done much out there, and it's killing me that all these baby weeds are starting to pop back up again.
I did go outside yesterday afternoon, and pull some of those weeds, but, as soon as I stood up, the pain was shooting down my legs. So - the boys are going to have to get in their knees and pull those weeds this weekend.
Let's backtrack a bit, too....Mother's Day. What a great day! I was treated so nicely. I got some really beautiful cards, and flowers. Jen also shopped at her job, and bought me such a loving card, and a lovely floral wall plaque. I also got some $$ to spend at the scrapbook store - which is always great! Jen had to work that day, so I went with the boys to lunch, and then on to Argyle Lake in Babylon Village. The weather was wonderful. The boys did not fight! We had great conversation, took some pictures - of course. We got ice cream cones.
It was just a wonderful afternoon. On the way home, we stopped at Barnes and Noble, and then M's to get supplies for a new front door wreath. (I'll make that this weekend - maybe)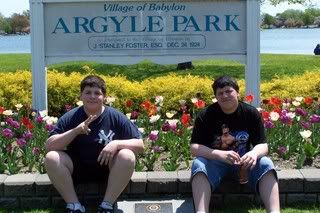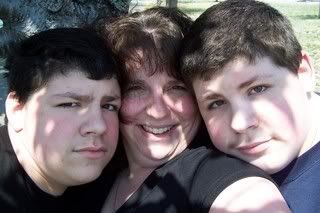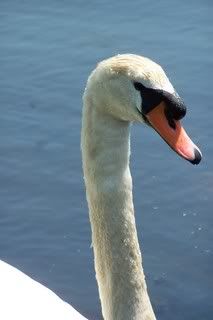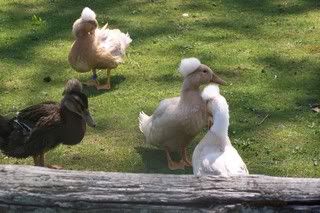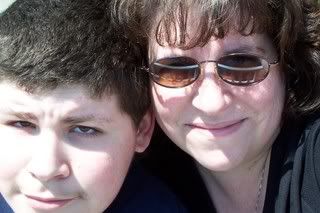 Anyway - it's just been busy, and fun, and work is going well.