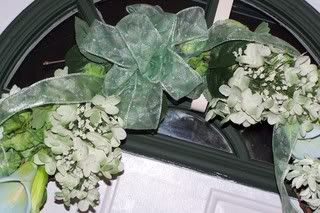 Well, for now, I have pictures of one handmade gift. I made this wreath tonight, for my aunt. She just painted, and purchased brand new furniture for her livingroom, in blues, and greens. I thought a fresh new wreath would be a nice addition!
I have to finish up a few chipboard word bloom books, too. :) It's amazing what you can accomplish when you get up off your rear, and away from the computer.
Tonight, Jen and I also baked 3 batches of cookies. Fun stuff!
XOXO