I've bought a lot of stuff the last two weeks....way too much, I think. :P
First, there was the day I went to Target with my son to get him cold medicine. I got the cold medicine, and the bill came to ~$74. The cold medicine was $5.73 or so. Uh..the rest was all scrapbook stuff. That specific Target recently revamped their sb section, and all the new stuff was really cute!
Then, I went to Michael's, and bought more stuff, because *they* revamped their sb section. AC Moore was next o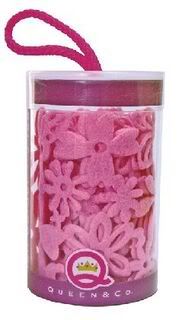 n the hit list - did I mention they've gotten in a bunch of new product, too?
Then, the other night, I ordered from Two Peas in a Bucket. Lovely, lovely, felt ribbon. :) I got all the colors...look at the pink..... isn't it delish? The only color 2peas didn't have, was black..and I'd love to get this in black.
I will, too. You watch!
(My best attempt at an excuse for all this buying - my daughter is graduating HS, and I'm working on an album to give her at her graduation party. Sort of - all the years of her life. Or, at least, most of the years.) teehee!