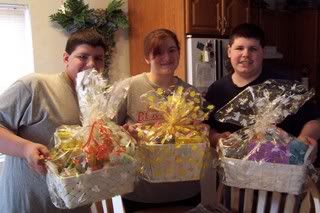 Easter has come and gone. The kids all got Easter baskets, even at 17, 15, and 13. Funny, my 17 was the first one to be finished with her candy!! I couldn't believe it. My 13yo still had candy in the basket - I know, because I steal some, now and then. :) shhhhhh!!
I bought this flower, at Stop and
Shop. I thought it was pretty darn cute, with the poms, and pipecleaners formed to be ears and whiskers! I was working, filling in and making the Easter cards all neat, when I happened to see a shopper with one of these guys in her shopping cart. So, after I finished up at that account, I got one of my own. He sits to the right side of my computer desk, isn't he cute?!
I told the kids, that for some reason, it just made me smile.
I'm going to plant the flower outside, as soon as the weather warms up.
These pictures are from the day in the city. Luck would have it, that the Macy's Flower Show was going on that week. I've always wanted to see this event at Macy's Herald Square, but, I've never gotten there, even all the years I worked in Manhattan. Anyway - the windows were so beautiful, amazingly so! Unfortunately, the glare in these pictures sucks. :( Inside, the giraffe, and zebra, topiaries were so neat. The giraffee must have been at least 25 - 30 feet tall. But, I don't know for sure. :)
Anyway, it was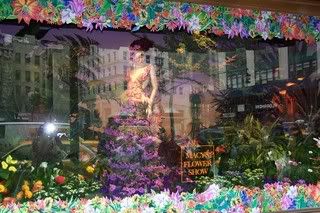 really neat to see this
for the first time.